"An 8 Week Challenge, for the rest of your life."
Spokane's Hilary Shaffer & Mandy Judd lead a do-able, life changing 8 week fitness & health challenge that will not only change your body, but change the way you feel about yourself. It's not just another fad that spans over an 8 week period, but a lifestyle that will teach you how to sustain an active and healthy life for the long haul. Take one minute to scroll down to learn more about our challenge and the steps you can take to permanently change your life.
The Decision
One of the biggest hurdles in any fitness goal is simply deciding on making one. Prepare your mind and simply make the decision that it's time to change your life. Meet with Hilary or Mandy soon to discuss and get started.
Fitness
There's no 45 minute workouts here. It's high intensity training within a very short work out session. Our goal is to create a lifestyle of fitness and activity. We're not here to create gym-rats, we're here to change lives & create healthy lifestyles.
Eating Right
Let's be real, there's no such thing as 8-minute-abs. Abs are made in the kitchen! Through this challenge, we not only work you out, but TEACH you how to set reasonable and attainable eating habits.
Lifestyle
Like we said before, this challenge may be 8 weeks long, but we are certain it can create a lifestyle change that you'll be thankful for. We look forward to taking you on this journey to a new lifestyle of health and confidence.
Hilary Shaffer
Don't let that smile fool you, she's been known to make grown men cry.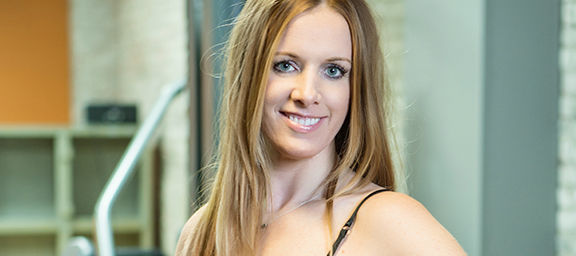 Mandy Judd
Mandy means business in the gym. Her dedication to her craft is second to none!